International War on Terror

With the actions the U.S. and its allies are taking internationally, it has become very obvious that the so-called "war on terror" is actually a war against Al-Islam. Muslim countries are being attacked under false pretense and for peacefully pursuing exploration of resources in creation that the Creator has made freely available for ALL human beings.  The threat of war looms over many Muslim countries. Along with that, individual rights and freedoms of Muslims are being trampled on and many innocent Muslims are being imprisoned and tortured justified by the trumped up charge of being "terrorists".  The plans for deliberate war against Muslims are not secret. They are carefully laid out in open strategic documents developed in the US and Israel .  This section will present articles dealing with the wars fought against Muslims in Iraq , Afghanistan , Iran , Sudan , Somalia , Chechnya , Kashmir and other places. It will also feature articles exposing the persecutions and injustices faced by Muslims in western lands.

The Financial Times editorial page carries a logo that proclaims: "Without fear and without favour". Indeed the editors have shown no fear when it comes to… fabricating lies, promoting imperial wars decimating countries and impoverishing millions, whether in Libya, Syria, Iraq, Afghanistan, Yemen and now Venezuela. The fearless "Lies of Our Times" have been at the forefront forging pretexts for inciting imperial armies to crush independent governments.
Despite its pretentious scribblers and prestigious claims, the FT is seen by the Anglo-American financial class as a belligerent purveyor of militarist policies designed for the most retrograde sectors of the ruling elite.
Read more: NEWS DIGEST: Saudis attack Yemeni homes with cluster bombs
'West not serious about fighting terrorism' - adviser to Syrian President Assad
https://www.rt.com/op-edge/356817-rt-exclusive-interview-syrain-adviser/
Eva Bartlett is a freelance journalist and rights activist with extensive experience in the Gaza Strip, where she lived a cumulative three years (from late 2008 to early 2013), arriving by boat as a part of the Free Gaza missions. She documented the 2008/9 and 2012 Israeli war crimes and attacks on Gaza while riding in ambulances and reporting from hospitals. Eva accompanied Palestinian fishers and farmers as they came under intensive fire from the Israeli army. She has been to Syria four times since April 2014 and works to convey the voices of a people suffering under the foreign war on Syria. Her writings can be found on her blog, In Gaza.
Read more: NEWS DIGEST: US occupation of Syria is now official - No Fly Zone Created!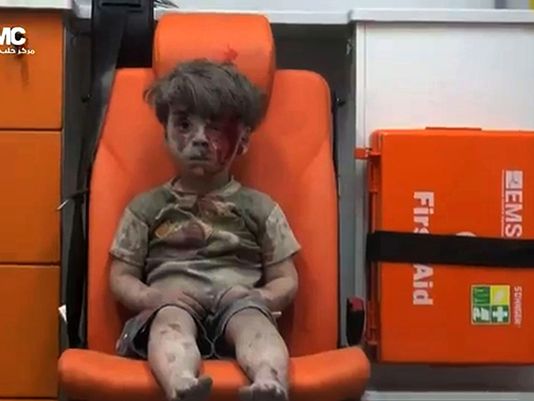 Washington's media presstitutes are using the image of the child to bring pressure on Russia to stop the Syrian army from retaking Alleppo.  Washington wants its so-called moderate rebels to retain Alleppo so that Washington can split Syria in two, thereby keeping a permanent pressure against President Assad.
As for the little boy in the propaganda picture, he does not seem to be badly injured. Let us not forget the tens of thousands of children that Washington's wars and bombings of 7 Muslim countries have killed without any tears shed by CNN anchors, and let us not forget the 500,000 Iraqi children that the United Nations concluded died as a result of US sanctions against Iraq, children's deaths that Clinton's Secretary of State Madeleine Albright said were worth it.
Each star is a US base. But just to be clear, Iran is the one that is threatening US
.
Posted February 11, 2011
Map provided by www.juancole.com
http://www.informationclearinghouse.info/article30504.htm