Economic and Political Intrigues
Economics and politics are two tools that have been used by the elite for world dominance and control. It was Mayer Amschel Rothschild who said, "Give me control of a nation's money and I care not who makes her laws". By gaining control of the economics of a nation, the government and political structure can also be controlled.  In the quest for world rule and dominance many political and economical events have been staged by the elites to lead them closer to their goal. The articles below exposes some of those events and intrigues.
Is Syria's destruction a part of the Zionist plan to create a 'Greater Israel' ?
The Plan — according to U.S. General Wesley Clark (Ret.):  In an interview with Amy Goodman on March 2, 2007, U.S. General Wesley Clark (Ret.), explains that the Bush Administration planned to take out 7 countries in 5 years: Iraq, Syria, Lebanon, Lybia, Somalia, Sudan, Iran
Read more: ISIS is working on Mossad/CIA Plan to Create Greater Israel
Read more: NEWS DIGEST: Turkey Invades Syria, Backed By U.S.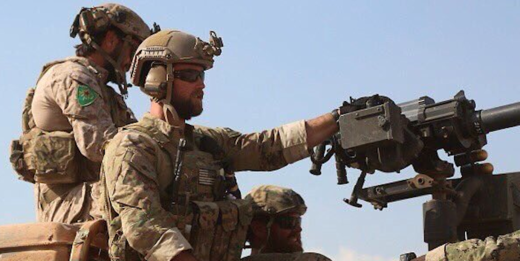 "This is a historic and dangerous development which only increases the chances of total war."
Over the last 24 hours, the United States has made clear its 
status as a hostile occupational force in Syria.
 Yesterday, the US issued a communique to the legitimate Syrian government and the Russian anti-terrorist coalition assisting the Syrians. The United States has indicated that 
it has carved out a swath of Syria with boots on the ground fulfilling the roles of active duty personnel
, such as special ops forces, advisors, trainers, mechanics, and supporting units
.
The US has declared a no fly zone and threatened to target and shoot down Syrian and Russian planes within Syrian airspace
 [over the Kurdish autonomous region - ed]. 
Not rockin' with the coup in Turkey even a lil' bit. Yes, no doubt that Recep Tayyip Erdogan is a certified egomaniacal monster who has had a major hand in murdering hundreds of thousands of Syrians and Iraqis, who backs the Saudi war on Yemen, who is trying to replace Turkish Islam with Wahhabism, who has all but eliminated freedom of the press, who has falsely imprisoned journalists, who has betrayed the Palestinian cause too many times to count, rigged elections and maintained a regime of corruption with numerous members of his kin that rivals any dictatorship in history. But none of that means the Turkish Armed Forces are paragons of resistance and revolution. Quite to the contrary.
Read more: TURKEY COUP AIN'T RIGHT: ERDOGAN IS BIG DEMON, BUT TURKISH ARMY IS EVEN BIGGER