Economic and Political Intrigues
Economics and politics are two tools that have been used by the elite for world dominance and control. It was Mayer Amschel Rothschild who said, "Give me control of a nation's money and I care not who makes her laws". By gaining control of the economics of a nation, the government and political structure can also be controlled.  In the quest for world rule and dominance many political and economical events have been staged by the elites to lead them closer to their goal. The articles below exposes some of those events and intrigues.
Read more: NEWS DIGEST: Can a world war be avoided? Saudi warplanes target funeral in Sana'a!!!
http://www.intifada-palestine.com      
http://www.palestinechronicle.com
http://theuglytruth.wordpress.com
http://www.almanar.com.lb/english/main.php
http://alethonews.wordpress.com
http://www.ascertainthetruth.com
President Assad Of Syria Is Not An Evil Dictator Killing His People: The US Lied about It
What do evil dictators look like? What do they talk like? Just how wicked is an evil dictator's wife ? Should she be toppled along with her husband? Who am I talking about? President Assad of Syria and his wife, Asmas Al Assad.
These are the same ones boy Rubio, McCain, Lyndsay Graham, Ryan, the Bush's, Obama, Kerry and Hillary all want to topple down to bring peace to Syria. That is THE LIE they are and have been shouting. What they really want to do is take over Syria in order to hurry along their New World Order agenda.
The media whores push the establishment narrative that president Assad of Syria is evil and a corrupt dictator. They fear that when you realize who these people really are, you will be sorry you ever believed any lies told about them, let alone what they have conspired to do against them and all the citizens of Syria.
======================
Top adviser to Syria's Assad says Aleppo hospital strike claims 'insulting'
Bouthaina Shaaban, the political and media adviser to Mr Assad, told Lateline it was "insulting" to even be asked if the Government was behind the attacks on the hospitals.
"What is the interest of the Syrian Government to bomb its own hospital?" she said.
"Western media has been demonising our Government and our country and it's about time, really, that the media becomes honest and careful to convey the facts as they are on the ground."
Read more: NEWS DIGEST: SYRIA: US talked to ISIS before killing Syrian soldiers
Is Syria's destruction a part of the Zionist plan to create a 'Greater Israel' ?
The Plan — according to U.S. General Wesley Clark (Ret.):  In an interview with Amy Goodman on March 2, 2007, U.S. General Wesley Clark (Ret.), explains that the Bush Administration planned to take out 7 countries in 5 years: Iraq, Syria, Lebanon, Lybia, Somalia, Sudan, Iran
Read more: ISIS is working on Mossad/CIA Plan to Create Greater Israel
Read more: NEWS DIGEST: Turkey Invades Syria, Backed By U.S.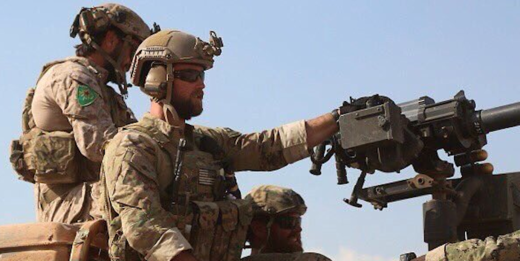 "This is a historic and dangerous development which only increases the chances of total war."
Over the last 24 hours, the United States has made clear its 
status as a hostile occupational force in Syria.
 Yesterday, the US issued a communique to the legitimate Syrian government and the Russian anti-terrorist coalition assisting the Syrians. The United States has indicated that 
it has carved out a swath of Syria with boots on the ground fulfilling the roles of active duty personnel
, such as special ops forces, advisors, trainers, mechanics, and supporting units
.
The US has declared a no fly zone and threatened to target and shoot down Syrian and Russian planes within Syrian airspace
 [over the Kurdish autonomous region - ed].